Do You Prefer BBW or Petite?
It's fortunate that women come in all body sizes because there are no uniform preferences. The traditional height and weight of the star female characters introduced for television and movies are a media average for broad-based appeal, but not necessarily every man's idea of beautiful.
In recent years, the modeling industry has been turned upside down as plus sized models strutted their full-figured curves, defying anybody to say they weren't beautiful. Then the confession from the men; big, beautiful women really turned them on.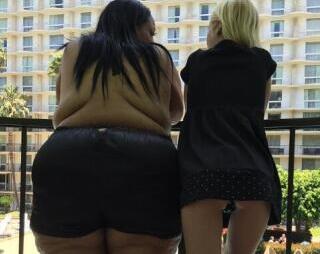 Big Girls are so Soft
Some psychologists, and we can strongly suspect they are males with a proper definition of beautiful women as five-feet-seven, one hundred twenty pounds, physically fit and intelligent, tend to believe through their studies that men who like a few extra curves are attracted to the maternal aspects of big women. They connect the extra wide hips with fertility, the fleshy upper parts with nurturing. Some psychologists will venture further and state men who like big, beautiful women are insecure. They believe if they have a big woman, they won't have to compete with other men.
But if you talk directly with the flesh-loving men, they will tell you simply, "because they are soft". One went so far as to state, "even in smaller women, I look for the fleshiest part to hold onto. The soft flesh feels nice and that's what excites me, not skin and bones."
Men who like big, beautiful women say they like shape. A well-toned, ample woman has a curving waist line, swelling hips and well-defined legs. She is physically, very attractive, graceful and confident.
Petite Girls are so Sexy
The same psychologists who embrace the skinny, five-feet-seven ideal, are also suspicious of the motives of men who like petite women. Little women are less intimidating, they state, then the big-brained five-feet-seven women, and less likely to cause conflict or present challenges.
Yet some of the greatest icons of sizzling women in show business have been petite women, such as Mae West, Marilyn Monroe and Dolly Parton. The highest statistical agreement is that big-busted petite women with long arms and legs are the sexiest women alive.
The Eye of the Beholder
It doesn't really matter why you like a particular size and shape. Whether she's a busty petite or a big-bottom girl, she has her own personality that has nothing to do with her ability to nurture or a docile nature, but distinct opinions, hobbies and interests. Your big, beautiful woman might be as playful as a kitten, and your petite honey, a pint-sized wildcat.
Your preferences could be environmental. The males born into families with a gene for short women will often be attracted to short women and pick them as mates. Men who were raised in an environment where kitchen skills are highly valued, will often pick women who know how to cook and are consequently, big women.
We are normally attracted first to the way a person looks, and later, to their personal qualities. If you like big, beautiful women, they are coming out with pride and changing the way people see fashion and performance. If you like petite women, just remember. They were voted the sexiest women on the planet.
Back To Curvy Dating Blog & Tips